US Helmet Scrim Airborne Infantry WW2 camouflage USA Army British burlap M1 M2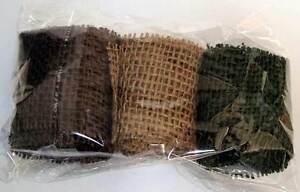 ---
There are no disallowed symbols on display nor do I support any disallowed organisation. Quote from s rules for ALLOWED postings: * WWII memorabilia that does not bear the banned German markings. I will send this item to USA, Europe and worldwide, so please feel free to bid! Note for Trust & Safety: These are American / British WW2 Helmet Scrim and are 100% Allowed on - Please DO NOT REMOVE
M1 M2 M1C Airborne Infantry Helmet Scrim WW2 USA Army U.S. British camouflage material
You are bidding a set of museum quality reproduction USA / British Infantry & Paratrooper Helmet Scrim / burlap material. This was used to camouflage American and British helmets in WW2. The scrim was not custom made for helmets it was made for vehicle and buildings camouflage. The troops just cut this material up and used it on their helmets. Just cut each strip into two or three parts and attach with string to your helmet net.
The scrim comes in three colours - Tan, Dark Brown and Green. It is approximately 120cm long and 5cm wide. Full instructions will be emailed to the buyer.
The perfect item to camouflage your American or British helmet.
Like all of our items 100% money back on the scrim, if returned and in this case prior to them being used.
The helmet & net below is NOT FOR SALE you are buying the scrim material only:
German: Der Helm und net in den Bildern sind nicht zum Verkauf. Sie kaufen nur den Helm Gelege. Sie bieten eine Reihe von Museumsqualitätswiedergabe USA / Britische Infanterie und Fallschirmjäger Helm Scrim Material. Dies wurde verwendet, um amerikanische und britische Helme im 2. Weltkrieg zu tarnen. Das Gelege wurde nicht speziell für Helme es für Fahrzeug und Gebäude Tarnung gemacht. Die Truppen nur dieses Material zerschnitten und verwendet es auf ihren Helmen. Schneiden Sie einfach jeden Streifen in zwei oder drei Teile und befestigen Sie mit einer Schnur an Ihrem Helm Netz.
French: Le casque et net dans les photos ne sont pas à vendre. Vous achetez le canevas de casque seulement. Vous offrez un ensemble de reproduction de qualité de musée Etats-Unis / d'infanterie britannique et parachutiste matériau Casque Tulles. Il a été utilisé pour camoufler les casques américains et britanniques dans WW2. Le canevas n'a pas été fait sur mesure pour les casques elle a été faite pour le véhicule et les bâtiments camouflage. Les troupes ont juste coupé ce matériau et utilisés sur leurs casques. Il suffit de couper chaque bande en deux ou trois parties et attacher avec de la ficelle à votre casque net.
Italian: Il casco e netto nelle immagini non sono in vendita. State comprando solo la tela casco. State offrendo un insieme di riproduzione di qualità del museo USA / Britannica fanteria e paracadutisti Materiale del casco Scrim. Questo è stato utilizzato per camuffare i caschi americani e britannici in WW2. La tela non è stato fatto su misura per i caschi è stato fatto per veicoli ed edifici camouflage. Le truppe appena tagliato questo materiale e utilizzati sul loro caschi. Basta tagliare ogni striscia in due o tre parti e fissare con lo spago alla vostra rete casco.
Russian: Шлем и чистая на фотографиях не предназначены для продажи. Вы покупаете только шлем маскировочная сетка. Вы предлагаете цену набор воспроизводства качества музея США / британской пехоты и Paratrooper Шлем сетчатый материал. Это было использовано для маскировки американских и британских шлемы в WW2. Холст не на заказ для шлемов это было сделано для автомобиля и зданий камуфляже. Войска просто сократить этот материальный вверх и использовал его на шлемах. Просто вырезать каждую полоску на две или три части и приложите шпагатом к вашему шлем сети.
Japanese: 写真中のヘルメットやネットは販売のためではありません。あなただけのヘルメットクリムを買っている。 あなたは、博物館の品質の再生アメリカ/イギリス歩兵&空挺部隊ヘルメットスクリム材料のセットを入札している。 これは、第二次世界大戦中にアメリカとイギリスのヘルメットをカモフラージュするために使用された。 クリムは、カスタム、車両や建物カモフラージュのために作られたヘルメットのために作られていませんでした。 軍隊はちょうどこの材料を上にカットし、そのヘルメットの上に使用しました。 ちょうど2または3の部分に各ストリップをカットし、ヘルメットネットにひもで取り付けます。